Itinerary
Welcome to the Alhambra – the most visited monument in Spain! Granada was the last Muslim kingdom in Europe. Our city is a mix of Islamic, Christian and Jewish culture and it is reflected in our art, architecture, society and culture. The best example for this is The Alhambra, the only Muslim palatine city in the West.
During this Tour of the Alhambra, we will visit the Nasrid Palaces, actually the jewel of the site. The Nasrid Palaces are a complex of three different Palaces: two for the receptions of the ambassadors and administration of the kingdom in the 13th and 14th century. Then the residential area, were the sultans of the Alhambra enjoyed life with the royal family in an unique place mixed of Christian and Muslim architecture.
Walk along with me in this on hour live tour and discover the amazing decoration, architecture and symbology of the palace, with an unique point of view and from a completely different perspective. You won't just be a tourist – you will walk with the eyes of an expert catching every single detail of the Alhambra!
What we will visit: The Nasrid Palaces
– Mexuar and Arrayanes: reception and administration of the kingdom
– Comares: Throne Room
– Palace of the Lions: Residential area
Public Experience
Private/Custom Experience
Who
You will be one of several joining the experience from across the globe.
Exclusive experience for you and/or your party
Interaction
You will get a chance to ask questions, however, the guide will be attending to all participants.
You will get more one on one time with your guide throughout the experience.
Experience
Standard, curated for the public.
You can make custom requests to your interests.
When
Choose from an available time.
Choose from an available time slot or request a specific date and time.
Reduced pricing available with subscription! Learn more
Preparing for your Experience
You should have a stable internet connection with audio and video capabilities to allow you to interact with your guide.
Meet Your Guide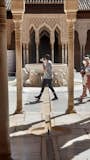 Asier
Asier Garmendia
Hi! I'm Asier, welcome to Granada, the most wonderful and charming city in the world. I am a licensed tour guide, with a degree in Art History and specialised in the Alhambra. I've been working as a freelance for more than five years in English, Spanish and Italian. Let me show you as a local our traditions, food and heritage. The city of the Alhambra will not disappoint you! My job is my passion!