Itinerary
We celebrate Christmas with our Ireland Virtual Tours Christmas Special Presentation. We celebrate two of Ireland's oldest customs and the grave of St. Nicholas himself.
We visit Newgrange, the site of The Winter Solstice. We go in depth into The Solstice and also show a time lapse video of the amazing phenomenon as the full time involved with the Solstice is about 15 to 20 minutes, so a time lapse gives us more time to discuss.
We also celebrate another old Irish custom, that being The Wren Boys. What they do and why they do what they do. At this point there will be some nice Irish Music for you to enjoy.
Finally there will be a visit virtually to the grave of St. Nicholas who inspired the legend of Santa Claus who is believed to be buried here in Ireland (no joke). **A word of warning please keep our younger family members who believe, away when we visit here, we don't want to ruin a great time for our young ones**
Looking forward to seeing you on one of the following dates
Dates are as follows, please check availability.
Saturday 11 December at 5pm EST
Sunday 12 December at 5pm EST
Wednesday 15 December at 5pm EST
Thursday 16 December at 5pm EST
Saturday 18 December at 5pm EST
Sunday 19 December at 5pm EST
For Groups, Family or Corporate/Team please contact us as we will endeavor to organize a group date and time that hopefully will suit you
Public Experience
Private/Custom Experience
Who
You will be one of several joining the experience from across the globe.
Exclusive experience for you and/or your party
Interaction
You will get a chance to ask questions, however, the guide will be attending to all participants.
You will get more one on one time with your guide throughout the experience.
Experience
Standard, curated for the public.
You can make custom requests to your interests.
When
Choose from an available time.
Choose from an available time slot or request a specific date and time.
Reduced pricing available with subscription! Learn more
Preparing for your Experience
It is recommended that you have a good internet connection with a decent broadband signal.
No Need For Fancy Gizmos. Just Your Computer, Laptop, Tablet Or Cellphone Connected To A Smart TV For Best Experience
All Ireland Virtual Tours Are Live And Guided. Join our virtual tour room and a great new experience awaits. A fun and interactive visual tour starts
Meet Your Guide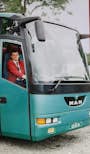 David Long
Ireland Virtual Tours
Hello David Long here. Welcome to Ireland Virtual Tours website. I am born and raised in Dublin, Ireland. I live in South Dublin with my wife and son.
I have been touring Ireland in many different capacities since i was a teenager. In the nineties I was a tour coach driver/guide/tour director. It was in this capacity that I had some of the very best experiences one could have in life. I toured through every county in Ireland. I met so many great people from around the World who enjoyed my company and i enjoyed theirs while touring the Emerald Isle. I keep in touch with many even after all the years. I love showing Ireland to everyone. From the musical culture to the friendliness of our people and the mystical lore that we have to offer. As I gain more experience, I came up with the idea of an Ireland Virtual Tour. Some might ask, well most will ask "What is an Ireland Virtual Tour". An Ireland Virtual Tour is me showing you live and interactive, a virtual tour that I have planned, with virtual visits as we go along. Then after each visit, we have time for a question and answer session. The virtual tour is a mixture of sights, castles, ancient places all shown "Live" by me, on your computer screen, from the comfort of your home. I am looking forward to meeting you very soon on one of my Ireland Virtual Tours