Itinerary
This is a LIVE virtual walking tour of the historically-rich Civic District of Singapore. Located in the city center, this one-hour tour will cover the story of Singapore from its founding in 1819, to the present day as a prominent global city of 5.5 million residents.
The tour is not a boring history lesson and nor is it just a sightseeing tour of key landmarks of the city. This is a a live, engaging walking tour that includes stories of Singapore's people, multi-cultural, multi-religious society and the lives that Singaporeans live. The Singapore Story comes alive in the form of interesting personal accounts and experiences, and participants will be actively engaged during the tour.
Join me to learn more about the Singapore Story in this LIVE walking tour that promises to leave you tickled, and in awe as you are entertained with nuggets of interesting information about this fascinating island!
What is a virtual tour?

All of our online tours are live and interactive. This means everyone on the tour can speak directly to the guide throughout the tour to experience the destination as if you are actually there.

How To Join A Tour

Easy to use! After booking, you get a unique link to a streaming platform, such as Zoom, to begin each tour. No other technology needed.

Qualified Guides & Hosts

Our guides are local to their destination and vetted by our team. They are all certified and qualified to conduct virtual tours in amazing locations around the world.
Preparing for your Virtual Tour
Please ensure you have good WIFI access.
Best to view the outdoor live virtual tour from a computer instead of a mobile phone.
If you are viewing together as a group, it's best to project the online session on a big screen instead of everyone viewing from their individual devices which may result in sound interference.
A Zoom link will be sent to you after you have signed up for the online experience.
Meet Your Live Virtual Guide

I am an experienced government-licensed tourist guide in Singapore. In my 16-year experience, I have conducted and customized various tour itineraries to suit the needs of tourists and corporates.
If you are looking for a guide who is:
• Knowledgeable
• Personable,
• AMAZING sense of humor
then look no further. Join me on an onsite or virtual tour of Singapore!
View all virtual tours by guide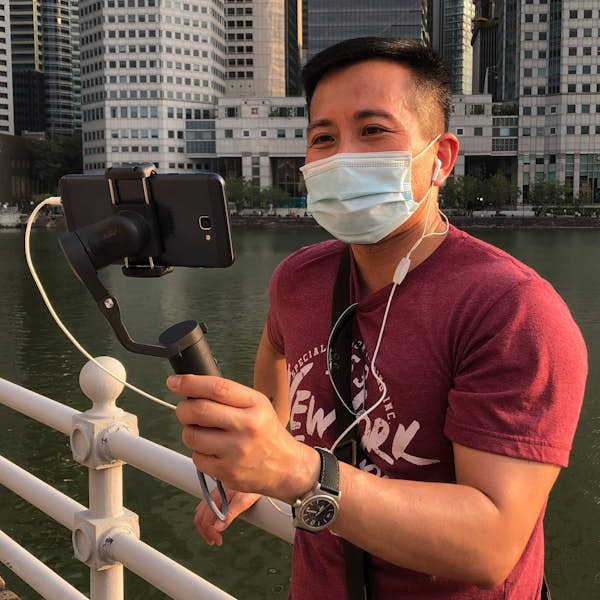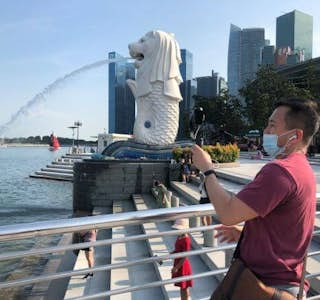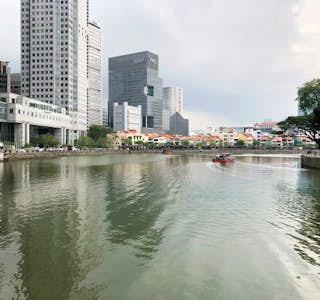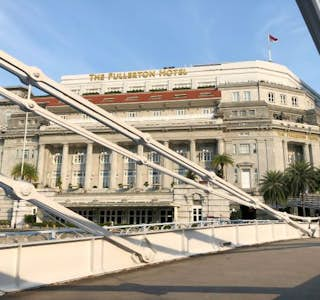 Reviews
I was disappointed with the tour as it stayed within the same area for the first 30 minutes. Also, I had trouble easily understanding the speaker's accent. Due to the above, I left the Zoom tour early.

"very interesting and enjoyable. The technology is amazing. I was curious how he managed to live stream while walking and also screen share. Thanks for offering this type of programming."

Edwin did a great job of introducing us to his beautiful city, and provided lots of good background information at the same time.

Patricia & Bob - Passport Club Members - Globetrotter

Edwin was informative and charming! He suggested that we step into our best walking shoes as we toured Singapore City Center—it felt as if we had, but with none of the fatigue! Edwin not only pointed out important buildings, bridges, waterways and monuments along the way, but he relayed interesting information about each. As "we walked" between sites of interest, Ed answered questions and expanded on topics such as foods, language, religion and history. He is engaging, humorous and intelligent! We enjoyed learning about Singapore and would love to travel again with Edwin as our guide!

Edwin was a great tour guide. He not only showed me his city but he explained what I was seeing with cultural and historical context. Thank you for an beautiful and engaging tour.

My group took its first trip with Edwin, from Singapore as our guide. It was a small group and we got to ask him many questions which he answered to our satisfaction. Edwin was funny, he repeated himself to be sure we understood what he was saying. We are all looking forward to future trips!

COA, Alford MA