Itinerary
Come, walk with me in the historical city centre, to learn about the iconic monuments of Granada, and how their functions changed from the past to present day as power changed hands. We will visit the lowest part of the Albayzin, the oldest quarter of the city and a UNESCO World Heritage site. The points of interest that you will see are:
Alcaiceria (Silk market of the XIVth Century)
Corral del Carbón (Oldest Muslim warehouse in Spain)
Cathedral (Panoramic view of the cathedral and surroundings)
Royal Chapel (Exterior of the place where the first kings of Spain are buried)
Low Albaicin (Paseo del Darro, one of the most beautiful streets in the world)
Meet Your Live Virtual Guide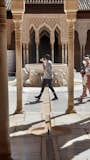 Hi! I'm Asier, welcome to Granada, the most wonderful and charming city in the world. I am a licensed tour guide, with a degree in Art History and specialised in the Alhambra. I've been working as a freelance for more than five years in English, Spanish and Italian. Let me show you as a local our traditions, food and heritage. The city of the Alhambra will not disappoint you! My job is my passion!
View all virtual tours by guide
What is a virtual tour?

All of our online tours are live and interactive. This means everyone on the tour can speak directly to the guide throughout the tour to experience the destination as if you are actually there.

How To Join A Tour

Easy to use! After booking, you get a unique link to a streaming platform, such as Zoom, to begin each tour. No other technology needed.
Preparing for your Virtual Tour
Please have a good internet connection and Zoom app installed on your phone or laptop
Know before you go
This tour involves walking to various places, at times the internet connection may be weak. However, we will attempt to minimize such disruptions
Since these are live tours, they may be subject to last minute cancellation due to inclement weather, Internet disruptions or other unforeseen circumstances.